For 60 years Stera Technologies have been using the best methods to serve their customers. Now they are working with Aveso to connect their smart factories around the world.
Stera is a global system supplier for electromechanical assemblies. They offer their clients solutions all the way from design and prototyping to mass production in their Finnish, Estonian and Indian factories. Today they are in the vanguard of the Internet of Things (IoT).
"Stera started the Smart Factory development program in 2014 as part of Tekes' IoT platform," explains Vesa Ohlsson, Unit Manager at Stera. "The first steps were the development of robot systems cooperation, the use of sensors in tools and jigs, as well as the use of machine vision to fulfil the target of a zero defect level."
The program soon expanded as Stera developed its own sensor portfolio to give operators more information about machine utilization and preventive maintenance.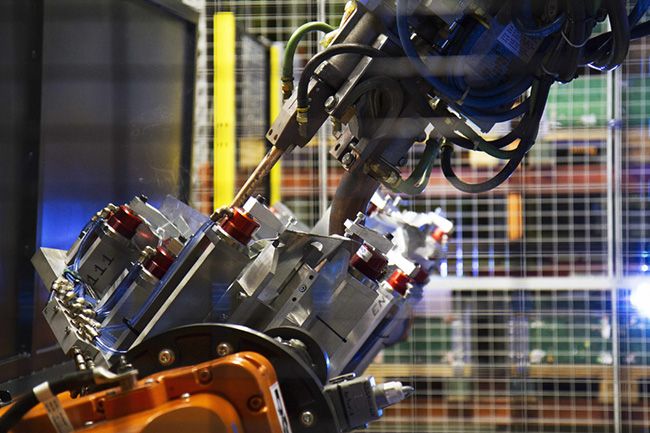 Stera has succeeded together with their customers. Productivity, quality and cost effectiveness are made with new automation systems, digitalization and motivated personnel.
Joined forces
In 2016 Stera began a partnership with Aveso, a specialist in data management and software development. Aveso's expertise with Microsoft's Azure cloud platform and Power BI business analytics tools were a perfect fit for Stera's smart factories.
"Nowadays Stera factories are equipped with wireless sensors, cloud service and visualisation," Ohlsson continues. "Production management use this information in everyday decisions. The system is wireless, scalable, cost effective and easy to use."
"There are many concrete benefits of this solution," says Sami Heino, CEO of Aveso. "Traditionally the machine monitoring was based on reporting. Now we have immediate information on operations, such as running time and capacity utilization."
Heino points out that this system can even track inventory, create purchase orders and provide guidance for predictive maintenance. Additionally, with Microsoft Power BI the solution is automatically mobile.
"Cooperation was very smooth and agile with Aveso," concludes Ohlsson. "We at Stera know how factories should be run and Aveso knows how to handle the ERP and IT systems as well as data management. This is true digitalisation that is going on in manufacturing companies!"
Text: David J. Cord
Aveso
Aveso is an experienced partner specialised for implementing data management solutions.
Yrityksen verkkosivut